14 Day Machu Picchu & Amazon Cruise Exclusive
Booking Dates
09/23/2022 through 12/15/2023
Travel Dates
08/23/2019 through 12/31/2023
Provider
Kensington Tours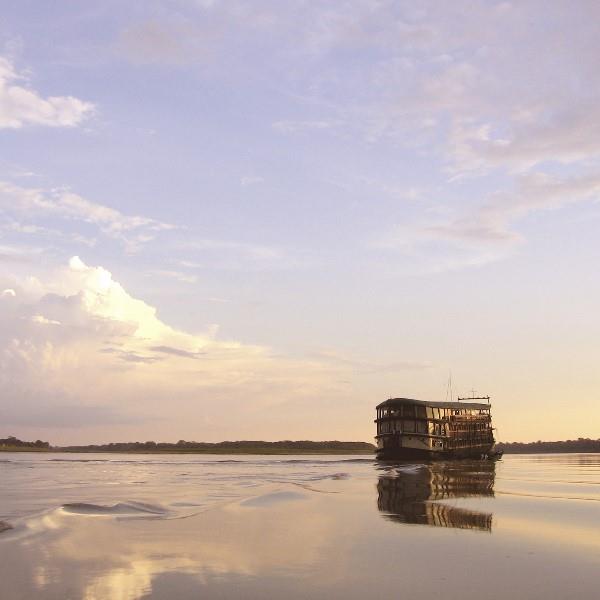 14 Day Machu Picchu & Amazon Cruise Exclusive
This luxury tour combines the majestic highlights of Inca country with a dazzling 5 day cruise through the heart of the Peruvian Amazon.
Explore Lima, Cusco and Machu Picchu with a private guide before cruising through the Amazon on a luxury boat. Lima is now considered one of the culinary capitals of South America, and a private guide will unveil the colonial and modern highlights of this thriving city before you fly to Cusco and explore the majestic Sacred Valley. Board the glass-topped Vistadome train to journey along the lush Urubamba River and marvel at the enigmatic ruins of ancient Machu Picchu. A private guide will unveil the mysteries and legends behind this incredible historic sanctuary. Fly to Iquitos, a sultry Amazon port and board your luxury cruise boat for a true Amazonian adventure. You'll become one of only a handful of seasoned world travelers to visit the remote Pacaya Samiria Reserve, a five million acre haven for glorious Amazon mammals, birds and plants. Go piranha fishing, and trek into the dense jungle in search of Amazon monkeys, three-toed sloths, crown headed hoatzin birds, toucans and macaws. Let your on-board naturalist guide share secrets of the Amazon, enjoy five-star Peruvian cuisine and relax on the boat's outdoor river facing Jacuzzi. This personalized tour is available as a 3, 4 or 7-night riverboat cruise option.
Please note that the cost of regional and international air has not yet been included in your quotation. Air experts are standing by to help. Enjoy a personalized vacation that best suits your needs, developed by one of our experienced destination experts. Relax during your trip with our 24/7 support and expert local guidance. Get a taste of the most biodiverse rainforest in the world aboard the Aria Amazon or Aqua Nera. Begin your journey in Iquitos, a rustic city which is the beating commercial heart of the Peruvian Amazon. This 3-night itinerary focuses on the Marañon, the Amazon River's largest tributary, as well as other neighboring waterways, the Yarapa and Yanayacu-Pucate. Discover the habitats of these nutrient-rich waterbodies and how they – and the jungle around them – support a vast array of wildlife.
This 4-night Amazon Explorer Cruise manages to fit major highlights of the Peruvian Amazon and the Pacaya-Samiria National Reserve in an action-packed itinerary. Go piranha fishing, trek into the dense jungle with our experienced guides in search of wildlife such as Amazon monkeys, three-toed sloths, hoatzins, toucans, macaws and unravel the mystery of giant water lilies. Journeys focus on the Ucayali tributary, where wildlife feeding and nesting grounds are aplenty. You'll have the opportunity to view taricaya turtles and spectacled caimans in their natural habitat, along with Amazon's famous pink river dolphins whose love of frolicking in the river will delight the young and old. You'll also have enough time to find your favorite spot on the spacious five-star Aqua Nera, where you'll sample a wide range of Amazonian produce from chef Pedro Miguel Schiaffino's inventive and delicious onboard menu.
| Day | Description | View All |
| --- | --- | --- |
| Day 1 | Lima To Welcome | Details |
| Day 2 | Lima | Details |
| Day 3 | Lima To Cusco To Sacred Valley | Details |
| Day 4 | Sacred Valley | Details |
| Day 5 | Sacred Valley To Aguas Calientes To Ollantaytambo To Peru To Machu Picchu | Details |
| Day 6 | Machu Picchu To Aguas Calientes To Cusco | Details |
| Day 7 | Cusco | Details |
| Day 8 | Cusco To Lima | Details |
| Day 9 | Lima To Peru To Peruvian Amazon Cruise | Details |
| Day 10 | Peruvian Amazon Cruise | Details |
| Day 11 | Peruvian Amazon Cruise | Details |
| Day 12 | Peruvian Amazon Cruise | Details |
| Day 13 | Peruvian Amazon Cruise To Iquitos To Lima | Details |
| Day 14 | Lima | Details |